ENG - la faculté des sciences et technologies
Department of Physics
Welcome to the Physics Department!
Our Physics Department is part of the Faculty of Sciences and Technologies (FST, University of Lille - Hauts-de-France region) and gathers all the actors (administrative and technical staff, researchers and lecturers, PhD students, ...) who contribute to the development of Research and Training in Physics at the University. Physics being by nature at the crossroads of several other scientific disciplines (mathematics, chemistry, biology, medicine, ...), we have developped long-term links with other Departments and components of our University through joint courses, shared equipments and research programmes.
Quoting Serge Haroche, a French Physics Nobel Prize (2012), physics advocates a creative approach to knowledge, motivated by curiosity and an activity that generates innovations which in turn increase the means of action and diagnosis on nature, man and society. These two aspects of research: fundamental and applied ones, far from being in opposition, are complementary to each other. Fundamental research creates the knowledge base from which applications are born and, conversely, technological advances provide the increasingly sophisticated investigation tools that lead to a deeper understanding of our fundamental knowledge.
With this in mind, the Department's strategy has always focused on a strong link between training, research and industry. That translates into Masters based on our research, as well as close links with the industrial world in short (DEUST) or long (professional Bachelors and professional Masters) professional trainings, open to alternating work-study in rapidly developing fields (Digital Communications, Energy and Sustainable Development, Strategic Intelligence & Innovation, Instrumentation, Measurement and Quality). These degree courses are an asset for professional integration into the regional socio-economic world and contribute, as a result, to its reindustrialization and influence while taking advantage of its geographical location.
More fundamentally, a wide range of general training courses is offered, from BAC+3 (Bachelors in physics and in physics-chemistry) to BAC+5 (Masters in Physics; Medical Physics; Instrumentation, Measurements & Quality; Strategic Intelligence & Innovation; Life Sciences & Technologies; Scientific Journalism; Aggregations). Most of these courses offer the possibility of pursuing a doctorate.
In a spirit of international mobility, the Physics Department, supported by the Faculty's International Relations pole, promotes student mobility in all its forms and as such, some of our courses are accessible to English speakers. In addition to the bilingual Bachelors in Physics and in Physics-Chemistry, it is possible to join one of our international Masters in Physics (Physics for the 21st Century) or multidisciplinary Masters, affiliated to an international graduate program (Information and Knowledge society (IKS), Science for a Changing Planet), the Erasmus Mundus Master BioPham and the Master Life Sciences and Technologies affiliated to the graduate program IKS.
The Physics Department is strongly associated with laboratories (PhLAM, UMET, LOA, IEMN) and numerous research institutes (IRCICA, ICARE, CERLA, Institut Chevreul) whose activities cover a variety of disciplinary fields reflecting the internationally recognized expertise of its researchers and teacher-researchers, ranging from optics and light-matter interaction (molecular physics, cold atoms, photonics, non-linear dynamics of optical and biological systems) to the physics of the Earth's atmosphere, including condensed matter, materials and nanosciences. The Physics Department is also involved in three Joint Measurement Centers of the University of Lille. Thus, the coupling between research and education is reflected in the strong presence of these expertises within our training courses.
The Physics Department is also associated with two doctoral schools (École doctorale Sciences de la Matière, du Rayonnement et de l'Environnement – École doctorale Sciences de l'Ingénierie et des Systèmes).
To conclude this little overview of our training and research activities, on behalf of all the actors of the Physics Department, I wish all our students a great achievement.
Mr Abdellatif AKJOUJ
Director of the Physics Department
Nobel Prize in Physics 2023: three laureates awarded!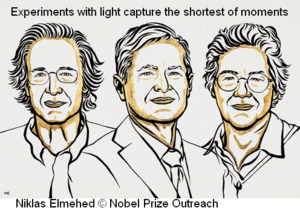 2023-2024: the year of physics!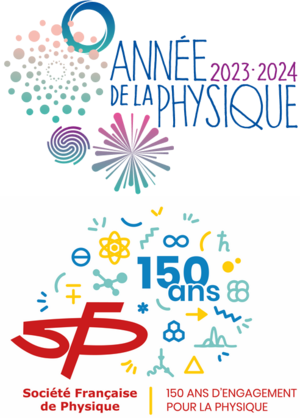 Throughout the French academic year, the Year of physiscs brings together the worlds of education and research to highlight the major advances and challenges of physics research in the 21st century. The event is taking place across the country, with a wide range of scientific outreach activities aimed at schools, the general public and students.

Partners include the French Ministry of Education, CEA, CNRS, France Universités, l'Académie des Sciences, CNES, Femmes et Sciences, SF2A, SAF, SFO, Fondation La Main à la Pâte, l'UDPPC, l'UPS and, of course, SFP !

To celebrate 150 years of commitment to physics, the French Society of Physics(SFP) wishes to demonstrate to all interested parties - institutional supervisors, scientists, the media, the general public, schoolchildren, public authorities - the considerable importance that physics plays in science and society.